Workshops and Events
Online Workshops: Robert Bruce is currently running online workshops only, with his partners at The Hall of Learning through www.glidewing.com Please click here for more information.
Live Workshops: No live events are scheduled at the moment. Early 2010 will be the soonest for any live workshops. These will most likely be in Australia and Canada. Topics cover astral projection travel, energy work, altered states, meditation, kundalini, OBE, astral planes and akashic records, and lucid dreaming. They also cover realization of your higher self, higher self communications, the realization / enlightenment process, kundalini, spiritual growth, and spiritual / psychic development.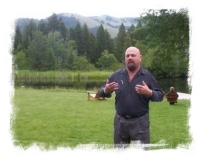 NEW Practical Energy Work and Astral Projection (PAPI) online workshops begin on Jan 21st and March 11th of 2010. Click here for details.
Click here for live video excerpts from online working sessions
*
Private Workshops: These can sometimes be arranged. POA.
Inquiries Contact: workshops* @* astraldynamics.com
Q-Link
is recommended by Robert Bruce
Click here for the review